Rider Profile
Mark Winkelaar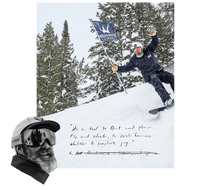 HOME MOUNTAIN
Powder Mountain, Snowbird, Beaver Mountain, Cherry Peak and currently working on the new West Peak slopes at the Utah Olympic Park. But I consider all of Utah my home!
WHAT KEEPS YOU SURFING SNOW?
It's worse than heroin. Lift tickets are my drug of choice. The geigerrigger backpack filled with Coors light Twisties and a bowl of Ramen at the end of the day with live music, dancing, and friends at the Powder Keg can't be beat. 71 restaurant after a day riding swallys at the Bird is muy bueno as well.
Get to know Mark
First memory of snowboarding?

I asked a gentleman who is putting his black swallowtail into a cordura bag to allow me to take a run on his board when I was 12 years old. It was right next to the hellgate condominiums by Alta Utah and I rode it down the hill to the creek. I fell once. It was love at first ride. I wanted to switch from skiing to Wintersticking right at that moment. I was fortunate enough to grow up skateboarding at Nordic Valley skateboard park and Rocky Mountain Surf Skateboard Park where there were more winterstickers than any place else on the entire planet. I learned to skateboard with the best of the best on the planet at the time. Mick Thueson, Scott Estes, Troy Lindquist, Rich Varga, Salam Mahi, Brad Smith, Arnie Hogue, Chris and Barney Gochnour, Ramer, Alan Johnson, Jamie Fox, Chris "Mini Shred" Neilsen, Roger Baird, Andy Brewer, Mick Woodworth, and of course Andy Brewer. I watched the best of the best rip Alta from 1977 through 1984 until they shut it down. I watched the explosion in Backcountry snowboarding. The birthplace was Flagstaff across the street from Alta and Snowbird. You can tell who was riding by what their track looked like. When they have first allowed us to ride on the lifts at Powder Mountain, Brighton, and Park West, I dropped out (failed my classes) and rode every day. I judged the earliest contests at Park West and Powder Mountain for the some of the first snowboard halfpipe contests in the world. Fond memories of watching Craig Kelly, Rob Morrow, Terry Kidwell, Andy Hetzel and Jeff Davis shredding. It all flows together it's not just one single memory. It was the beginning!
Last memory of snowboarding?

Riding with Tom Burt, Rob Kingwill, Noah Elliot, Rob Lu, Bob Deal, TFS, Joey Davis, Augustus Lookner, my kids, Cassiopeia M Johnson, and so many friends at the 50th anniversary of winterstick snowboards at Powder Mountain, Utah! "PowMow makes ya soft"
How has your appreciation of snowboarding evolved over the years?

I've been very selfish. But for the last five six seven years I can't tell you how many dollars I've spent on putting people on the ski hill. I want them to try roundtails, wescotts, Arks, and especially swallowtails. But probably the funnest thing I've ever done is to dress up as Santa Claus and rip pow on my favorite mountains handing out candy and spreading the Stoke for snow sports
What keeps you busy off the mountain?
Funniest memory on the mountain

Hey Cass Watch this, and being hooked by my backpack to the chairlift as I flew around the bull wheel dressed as Santa Claus. I flew head first into a great big huge powder pile. On Christmas day no less. The lift he pulled me out by my belt and my collar and all I heard was belly laughs. I had to buy all the lifties beers on Christmas Day! No one saw except that single lifty.
Most challenging line of all time

Suicide or country Lane on Mount Superior, but the Emma's and the Flagstaff gully are up there. I rode corbetts with my kid when he was teeny, my favorite is probably a shot 10 in the cirque. I have a list I hope I'll accomplish.
Most rewarding accomplishment on snow

Promoting and Selling Winterstick snowboards. Riding with the entire US SBX snowboarding team, meeting disabled snowboarder Noah Elliott and getting him steered towards riding the fastest boards on the planet.
Results/Bragging Rights

26th in slalom at the '87 World championships Swatch Watch Breckenridge swallowtail Plus with Cordura and Kevlar fabric bindings.

200 dudes entered. The top 10 are the who's who of snowboarding's pioneers.

I bought original Wintersticks from the OG Dimitrije Milovich. I got to ride Andy's freestyle.
Advice to up-and-coming riders

Put your heart and soul into your passion. Work everyday to make your dreams come true. It may take forever it may seem like a long time. But there is a joy to be found from working hard and falling down and getting back up again and again and again. Never ever ever give up on your dreams, your girl, your kids, or your life. Ask for those blessings from God and the Universe. And do your best to never conjure up the negative things that might cloud or block your progress. Lead with love and lean into your fears.
What Winterstick boards are in your quiver?

Pete Wagner era 163 Severe terrain, mid-90s 186 swallowtail, mid 2000's 183 swallowtail, 50th Anniversary 183 swallowtail, 164 Westcott, 163 Roundtail, OG Roundtail 170 plus with Softies, two Freecarve Coilers given to me by Winterstick Teamrider number one Mick "Smoothie" Thueson. Those boards are insane on groomers. A 166 custom RS built by Jack Michaud. It has a Titanal Insert, Ptex top sheet, isosport race base. It's been tuned by Andy Buckley at Renstaller. He has a few gold medal tunes. That board is crazy fast. I have a grip more under friends feet. A Daily Driver Seth Wescott designed. I ride soft boots by Vans with Union Bindings, but love hard boots and plates for high speed groomers.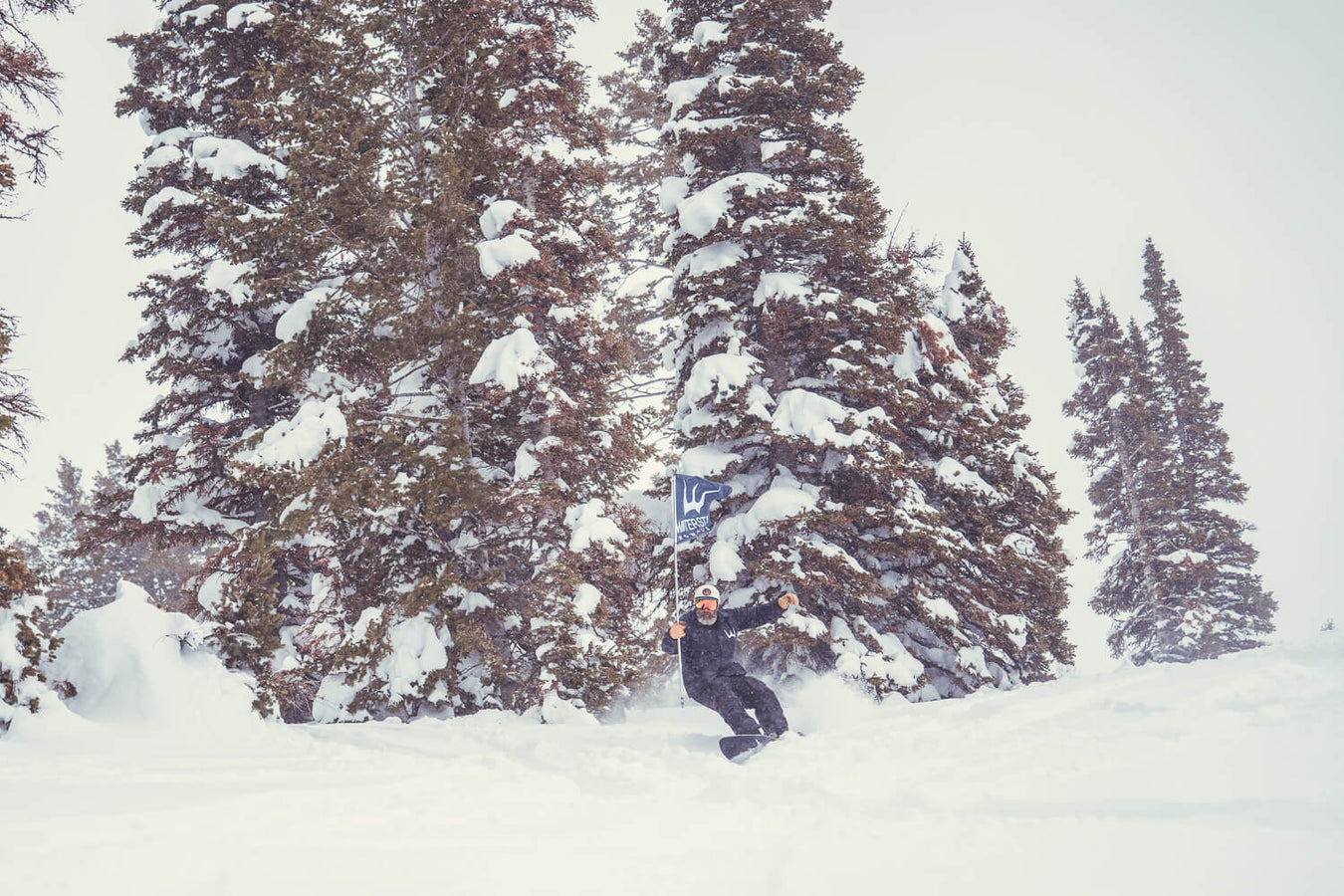 50th Anniversary Swallowtail® Snowboard

"Nothing easier on deep powder. Nothing faster or funner in low angle, high speed deep. It will change your terrain views."

Roundtail Snowboard

"An unreal powder skateboard."

Tom Burt Snowboard

"The Tom Burt slays in the most variable conditions. Zipper crust and glop? Hell yeah."